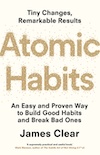 Atomic Habits - James Clear
Atomic Habits is a must read for anyone struggling to maintain good habits or break bad ones. It reinforces the idea that success comes from repetition. You have to show up day-in, day-out, regardless of whether you feel like it or not. The book drives this point home and outlines practical ways to make it more likely you do so, such as environment design and habit stacking. I took so many notes and gained so much from this read.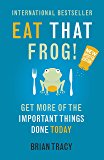 Eat That Frog! - Brian Tracy
A good book which emphasises the power of tackling your most important tasks and projects first, and focusing single mindedly on one task or project at a time to achive ultimate success in life. Eat That Frog! is not a long read, but did a good job of emphasising good habits I've read about in other books.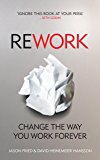 ReWork - Jason Fried and David Heinemeier Hansson
I've read this book twice now. I love books that offer 'uncommon sense' approaches; alternative ways to look at and solve problems. This is one of them. In ReWork, Jason Fried and DHH debunk the common view that you have to grow and get big to be successful. You don't. You can stay small and build the business you want, the way you want, and ignore the 'common nonsense'. The thoughts in this book have shown me an alternative blueprint for creating a business. They're thoughts that I'll revisit again and again in the future. I highly recommend this book, and many of their blog posts on Signal v. Noise
ReWork - Jason Fried and David Heinemeier Hansson

The Bullet Journal Method - Ryder Carrol
What a fantastic resource and book! I've been journaling for years, and I get immense value from observing my thoughts, writing about what's bothering me or a problem I'm stuck on. But there's always been a disconnect between what I discover through journaling and the actions that arise from it. My organisational methods have gone through so many iterations and digital tools over the years, each promising so much but ultimately failing in one way or another, forcing me to abandon them. This book and method provide a compelling answer to my issues with digital organisation. The Bullet Journal Method not only outlines the process of Bullet Journaling, but explains why it is such an effective method. Disconnecting from online distractions and information overload, giving yourself time and space to think, reflect and plan. The Bullet Journal method has completely changed my life.